The Foundation year is a genuine initial training, which puts sense at the heart of its teaching culture. Over the course of this transitional year, our students develop their own cultural and artistic tools and acquire the essential skills to apply to the competitive entrance exams of French and international H.E. schools of Art, Applied arts or Architecture.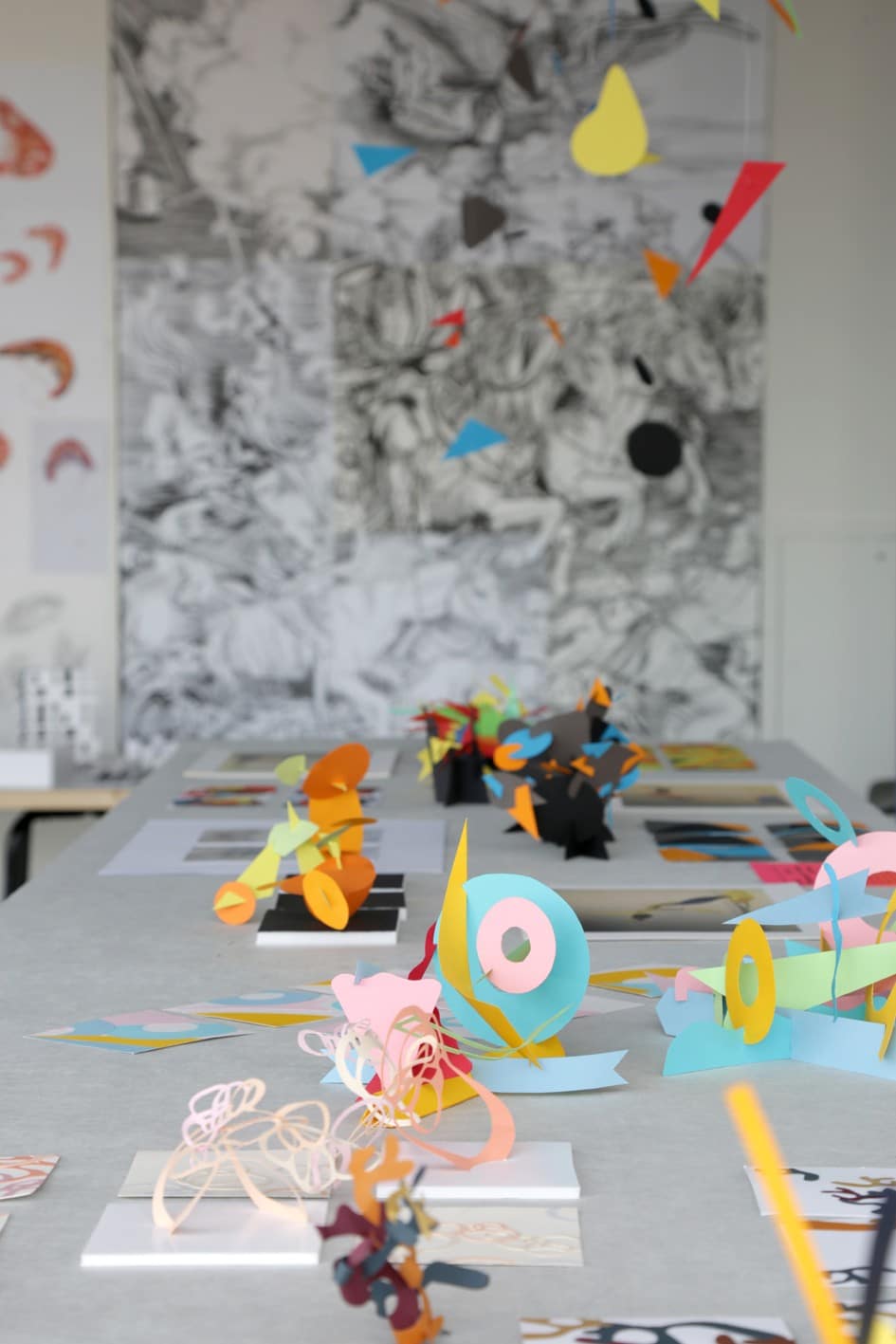 ©B.Heller
During this pivotal year, the students are given the opportunity to mature their course positioning : architecture, interior architecture, design, fashion design, visual communication, photography, scenography, set design, illustration, textile design… They develop their own singularity and acquire artistic skills.
Admitted in the Foundation Year for their ability to display curiosity, candor, quick-wittedness and a sense of commitment, they then acquire a definite accuracy, to see, think and express their ideas. They learn and experiment. They design and build. They shape themselves. They acquire cultural and artistic tools, plus essential skills to help them formulate their application to architecture or apply to art schools, both on the national and international markets. We passionately dedicate ourselves to guiding them through that process, so that, in the end, each student finds his or her appropriate path in Higher Education.
The Foundation Year's assets
A high success rate
Every year, once the Foundation Year is rounded off, our students have access to H.E., whether in private or public institutions : École Camondo, Architecture schools, EnsAD, Interiors & design schools, École de Design de Nantes Atlantique, Design Academy Eindhoven, Écal, École Nationale Supérieure des Arts Visuels de la Cabre, Central Saint Martins…
Entrance Exam Results
60 %
Interior architecture schools, école Camondo and other interior architecture schools in Paris
18 %
National Applied Arts schools: HEAR, Strasbourg
EnsAD, école de Design Nantes Atlantique, ESADSE, Saint-Étienne
12 %
International Applied Arts schools: Chelsea College of Art, London, Central Saint Martins, College of Art and Design, London, University of Coventry, École Nationale supérieure des Arts visuels de La Cambre, Belgique , Esaa St-Luc, Belgique  Écal, Lausanne , Design Academy Eindhoven
10 %
Architecture schools: Ensa Paris-Val de Seine, Ensa Paris-Malaquais, école d'Architecture de la Ville et des territoires de Marne la Vallée.
Thoughtful Management
Our Foundation year is a human-sized class (about 75 students), divided into 2 to 3 groups depending on courses. We offer our students an individual follow-up and guidance. At the end of each semester, an intensive phase is dedicated to training for competitive entrance exams.
The workshop, a driving force in our teaching methods
Concerted and cooperative pedagogy is the beacon of our teaching methods. Masterclasses and project workshops forge open-minded and creative students.
Regular information
During the first semester, an information campaign is organised to advise our students on possible H.E. and career paths thanks to the support of professionals.
Resources at our students' service
The Foundation Year provides its students with all of the school's resources such as our library featuring nearly 14 000 references, remote access to digital data, an exhibition hall inside our School, a yearly cycle of conferences, a research seminar in interior architecture and an open access to the IT stock.
An unparalleled link to the Les Arts Décoratifs institution
Our position is unique in Europe: our School is one of the components of the cultural institution that Les Arts Décoratifs encapsulates. Our F.Y. students benefit from a privileged access to the Museum's collections, its library, its cultural events – exhibitions and conferences – all of which contribute to enriching our student's educational culture.
A dynamic community
The Foundation Year is an educational offer of Camondo. Its participants are full-fledged students who are part of the School's life and events, whether administrative, educational or student-life centered. Students, teachers and practitioners are all part of what we like to call the "Camondians". The F.Y. class reps sit on the School's Educational committee. All can become a member of the Student Union and therefore take an active part in our School's community life.
Mobility and international orientation
The Foundation Year welcomes foreign students. It helps them become familiar with the French H.E. system while getting prepared for the competitive exams they contemplate. However, proficient knowledge of French is mandatory.
Camondo scholarships to promote social diversity
Our "Equal Opportunities" programme aims at promoting social, cultural and geographical diversity. Created in 2008, our programme has recently developped so that students with low income can see their tuition fees financed up to 25%, 50% and even 100% of their tuition fees. Our next ambition: to welcome in 10% of French and international students free of charge.