Support the Ecole Camondo's educational program by allocating it your apprenticeship tax
The apprenticeship tax is vital to the school.  This is the only tax that you are free to allocate. It's a choice that plays an essential role in ensuring that the training and business environment is regularly updated and constantly evolving. We will accompany you in this voluntary process. Thank you for your attention and for your support.
René-Jacques Mayer - Directeur de l'école Camondo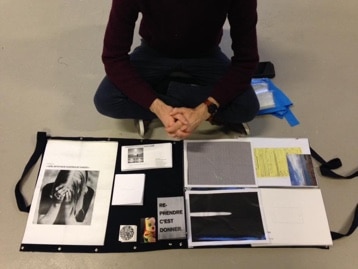 A tax whose allocation you choose
Choose a collecting organism. Mention :
"Ecole Camondo – Les Arts Décoratifs" N° d'UAI: 075018ZZ in the section "versement aux écoles" of the form of this OCTA.
Indicate "maximum catégorie B".
Contact : Édith Chabre
Recruit
An interface dedicated to drawing from the school's exciting resources.
Internships: during their education students have to complete two mandatory internships, at the end of their third year (two months minimum) and at the end of their fifth year (fourth months minimum).
Graduates: a network of close to 1000 graduates, independent workers, employees or society managers, receives job offers and news about the school's current events.
Contact : Élodie Roi
Participate in the pedagogy
By becoming the partner of an exclusive workshop (analyse, reflection, production) lead by teachers who are all professionals, in all levels of study (1st and 2nd cycle), for a given period of time. The companies who allocate their training levy to the school have priority when suggesting partnerships for prospective subjects.
Contact : Alexis Markovics
Be at the heart of the école Camondo and Arts Décoratifs school life
Invitation to the graduation ceremony and visit of the exhibit with the director and pedagogical team.
Priority access to the research seminary session of the school "Ambiance pour habiter".
Invitations for two people to all the exhibition openings of the Musée des Arts Décoratifs.  
Access to l'école Camondo's resources (in person or online).
Invitations to the exhibitions and conferences organized within our outside of the school. 
Publication on the school's websites of the payments.
A huge thank you for your participation in 2016
7 Lieues, A Co Design, A3 Atelier, Agasse Architecte, AGECOM, Agence 14 Septembre, Agence 14 Septembre , Grand Sud, Agence A.D.A., Agence Ah !, Agence Auvray, Agence Diot Clément, Agence Lieu-Dit, Agence Patrick Jouin, AMORIS-MDP, Arc Holdings, Arc International
ARCAD, Architecture Frédéric Lebard, Armtop, Arte Charpentier Architectes, Artefact Décoration, Artémis, Arteum, Arteum Services, Arts Square / La Capucine Giverny, Asplef, Bailly Monthury, BEDEC, BETC Absolut Reality, Blue Factory, Boffi Bains Paris, Boudah'Art, Brunswick Group, Bulle d'Air, Ca & Co, Hôtels Campanile, Canal Architecture, Cape Nord, Carrefour, Catherine Guégan, Centre Les Broussailles, Charles Zana Architecture, Clinique d'Amade, Courrèges, Cuisines Rabineau, Dedar, Bois, Didier Aaron & cie, Domaine de Courson, Double 2, Dugama Diffusion, Duplicatis, EBH 2001, EBTM, Édipost, Éditions Sorman, Eligest, Éliotrope, ENFIN, Ersa, Ersa & l'Île de France Immobilière, Erval, Espace au carré, Ets Picard Entrepôts
du Cygne d'Enghien, Evidence RH, Exalto, Fermob, Florence Clausel - Borel Architecte dplg, FR 66, Fresh architecture, Futurotel, G.B.R.H, G.P.B.L, Galerie du Passage, Galerie Joseph Karam, Galerie NeC nilsson et chiglien, Galerie Sarti, Galerie Yvon Lambert, Groupe BCA, Groupe Solanet, Handra, Hermès International, Hermès Sellier, HMC, Holding neuvessel, Hôtel Grill, Hôtels Première Classe, HPSC, I2H, Imhotep, Imprimerie Moutot, India Mahdavi, Interscène, Invest Hôtel, IRR France, J.Etchepare Tricotage Toulousain, Jacques Grange, Jardiland Enseignes, Jardins du Vexin, JCT Haute couture Interiors, Jean de Piépape Design, Jean-Baptiste Sibertin-Blanc, JLS Bureautique, JM Conseil, Joinct Papeterie Librairie, Kevin Velghe Architecte, Knoll International, Hôtels Kyriad, L.E.M Projects, L.V.S.D., L'association D'Days, Banque Populaire , Rive de Paris, La Boite A, La Caisse d'Epargne IDF, La Maison des bonbons, La Pyramide, La Tonnelle, Lazard Frères, Le Castel, Les Arts Décoratifs, Les Jardins d'Astrée, Les Nouvelles Corderies, LFG-Courtage, Librairie Galignani, Ligne Roset, M.O.H.A., MACtac France, Matchbox, Mathilde Bretillot Créations, Mattia Bonetti, ML Participations, Mobydoc, MOTEAM, MSP Conception, Multimédia Diffusion, NAHK, Nexity, Nord Facade, Now And Net, Pablo Katz Architecture, Parallel Architecture, Patrice Manquillet, Patrice Nourissat, PH2B, Pharmacie Boissière, Philippe Roux - Architecte, Philippe Villin Conseil, Pierre Frey, Placages André, Plexicom, Pralines et Chocolats, Presence Assistance Tourisme, Provintech, Raphael Bouchemousse, RCP Design Global, RDAI, Résidence L'Hexagone, Résidence
Les Bougainvillées, Restaurant Coco Beach, Richard (Ets), Rocabella, Roche Bobois, Safi, Saint Gobain, SAM / MAU / architecture, Samsic La Providence, Sas Experts et Commissaires, Satchel Consulting, Secap Pitney Bowes, Securitas Alert Services, Sentou, Societe CH Faconnage, Société Financière, de Passementerie, Societe Up !, Sociétés Gras Savoye, Sociétés Tampigny, Sodinvest, SOFEC, Starelec, Studio Éponyme, Studio Putman, T.P.R.C, T.P.R.C Nord Est, T.P.R.C Sud Est, T.P.R.C Sud Ouest, Talent and Partner, Tectona, Thema Architecture, Thouvenin & Véronique, Traits d'Union, Tukana Architecture, UBIK - Philippe Starck, Une Fabrique de la Ville, USM, Views Architecture  Intérieure, VIT'REPRO, Vitra, Volume International, Ymer & Malta …