Ecole Camondo Jury de Diplomes 2017 : la belle équipe !
---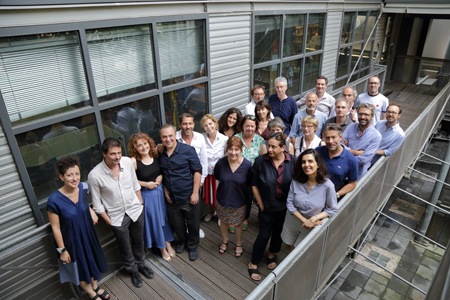 camondo community
06/07/2017
The Ecole Camondo 2017 Diploma Jury: what a team! They listened, commented on and judged the presentations of the 5th year students' 2017 Diploma work. Thanks to Denis Montel, India Madhavi, Lina Gotmeh, Catherine Bruant, Isabelle Patard, Stéphane Quigna, Pascale Boulard, Frédéric Druot, Pierre-Henri Bouchacourt, Noé Duchaufour-Lawrance, Bertrand Toussaint, Sylvain Jolivet, Jean-Baptiste Ceaux, Elliott Barnes, Sara Kamalvand.
They accompanied the students throughout the year, thank you to the dissertation directors and project directors Thierry de Beaumont, Manolita Fréret-Filippi, Aurélien Lemonier, Alexis Markovics, Carola Moujan, Emmanuel Bet, Mathilde Brétillot, Marie-Christine Dorner, Eric Jourdan, Marco Mencacci, Patrick Nadeau, Vincent Tordjman and Evangelos Vasileiou.